Talented Business
The currency of business success today is talent—an organization's people, from its current and future leaders to its frontline employees. And in an age of talent, the war for this precious commodity is not only fierce but now truly global.
Most top executives have a keen intellectual grasp of the critical value of talent. But when it comes to the practical implications, they are less certain: Do we have the bench strength we need to devise and execute strategy today and tomorrow? Can our middle managers handle the squeeze that comes from constant streamlining and change? How is the work we do changing, and what critical skills will we need in the future? How does our organization and how do our people become more adaptable? And how will we best take advantage of new sources of talent?
These questions have become increasingly critical as the pressures of globalization, changes in workforce demographics and even the nature of work itself have made talent into an organization's most important competitive asset. It is confirmed that the issue of attracting, engaging and retaining the right talent has moved to the top of the corporate agenda.
Yet too many organizations have fragmented talent management systems, processes and practices, and have not focused on building those capabilities sufficiently. The HR function has long been a backwater of investment and attention, and is now facing significant challenges to reposition itself. HR outsourcing is becoming increasingly popular as a means of bringing about change in the core administrative and transactional activities of human resources. But much more needs to be done before talent is widely and effectively used to create sustainable competitive advantage and long-term value.
To truly compete on talent—to create what we call a talent-powered organization—companies must be prepared to do more than just fill in gaps by adding people. They have to be able to multiply their talent to generate superior levels of effort, imagination and creativity. And they need to do that by building and combining their capabilities in four areas—defining, discovering, developing and deploying talent. When these capabilities come together and are aligned with critical business needs, organizations are in a position to multiply their talent and thus to create sustainable long-term competitive advantage.
Extraordinary Value

Talent is traditionally thought of as an attribute of individuals with superior abilities in one field or another—sports, for example, or the arts. In business, the term may be applied to the brilliant engineer, the top salesperson, the financial wizard or the executive who leads the organization to new heights.
There's no denying that individuals can often contribute the kind of outstanding performance that helps their companies succeed. But the need for constant innovation demands new levels of creativity from employees working in teams, across locations and functions.
We found that companies that multiply talent by increasing the contributions of individuals, teams, workgroups and entire workforces are significantly more likely to achieve high performance. They invest in building capabilities in defining, discovering, developing and deploying talent that allow them to realize extraordinary value from all their people.
Yet finding and retaining the right talent is becoming harder. Demographic trends are working against companies in most of the developed world. Working populations are starting to shrink as the baby-boomer generation reaches retirement and birthrates decline. Generational attitudes toward work are changing as well; engagement and loyalty appear to be declining as employees expect more and are more willing to move on when they are not happy.
Knowledge workers now make up a significant part of the overall workforce, as reflected in part by the huge shift of corporate value from tangible to intangible assets in the past ten to fifteen years. Knowledge workers' contributions to company performance largely take the form of intellectual collaboration—something that organizations cannot simply command or program. Nurturing and leveraging the expertise and initiative of knowledge workers, and finding ways to engage them in knowledge creation and sharing, are critical to the multiplication of talent.
Against a backdrop of all these challenges, organizations are seeking out new talent pools in emerging economies. But the competition for the best people in countries like India and China is also intense, and few organizations have the scale and capability to discover and source talent globally.
Talent and High Performance

High-performance business rests on three basic building blocks; talent figures heavily in two of them. First, talent multiplication is one of the winning mindsets that make up a performance anatomy. But when talent-powered organizations embed the multiplier mindset and practices into their strategies, processes and operations, talent multiplication moves from a key competitive mindset to an important and distinctive source of competitive advantage—a critical element in a top performer's distinctive capability.
It is suggested that a critical starting point for creating this mindset is strong, visible leadership with a deep conviction about the power of collective talent. For example, the High Performance Workforce Study 2006—a survey of more than 250 senior executives in the United States, Europe and Australia—revealed that companies deemed "human performance leaders" are much more likely than "laggard" companies to have functional leaders deeply engaged in talent management issues and initiatives. These leaders understand and can articulate their organization's critical talent needs, both today and for the future. As a result, they are able to cultivate a talent multiplier mindset throughout the organization; it is this mindset that fuels the talent multiplication engine.
We have found that talent management practices can be as varied as companies' strategies. But our research strongly suggests that talent-powered organizations regard talent multiplication as a critical organizational capability that is built on a solid foundation of integrated HR systems, consistent processes and strong governance with comprehensive measurement. They maximize the use of technology to support talent multiplication, and innovate continuously in all their talent management practices and processes.
Systemic Commitment

Creating a talent-powered organization demands a profound and systemic commitment to a holistic system of talent multiplication based on these four capabilities. Strong leadership is absolutely necessary as well: Leaders must provide vision and passion for talent multiplication and communicate its strategic importance to the organization and its future.
But leaders cannot create talent power; they can only lay the foundation for talent multiplication. The responsibility for multiplying talent must be cascaded through the organization.
Because everyone needs to be actively involved in multiplying talent, the organization must invest in developing leadership and management skills throughout the ranks. In particular, middle managers must have the people management skills that will enable them to effectively define, discover, develop and deploy talent. The importance of line managers and supervisors in engaging and multiplying talent cannot be overestimated.
Just as executives and employees had to become tech-savvy when information technologies became strategic, and just as they had to learn to think globally when the world's markets changed, they now need to become talent multipliers. This task is crucial for those who want to create, and be a part of, the talent-powered organization.
GOOGLE's case: How talent powers Google
Google's holistic approach to talent is an important contributor to the company's high performance. Like other talent-powered companies, its systems for engaging people's talents ensure competitive success and increase the organization's collective capabilities. Google defines its talent needs in terms of the most strategically pivotal segments of the workforce and mission-critical skills and competencies.
For instance, Google sees winning the talent war in China as critical to achieving its strategic objective of becoming the country's leading search engine (China's own Baidu.com is the current market leader). To that end, the company lured away a former Microsoft Corp. executive, Kai-Fu Lee, to become president of Google Greater China. A charismatic visionary with great appeal among young Chinese, Lee's mandate is to build a research and development center that will serve as a "talent magnet" to fuel Google's growth in China.
Google continuously seeks out new options and channels for discovering talent. In 2006, the company accessed a relatively untapped talent pool by opening a new office in Ann Arbor, Michigan, where it will hire local talent to fill 1,000 account management and customer support positions over the next five years. The company saw an opportunity in the region's supply of highly skilled college graduates and low cost of living (relative to high-tech hubs such as Silicon Valley, Boston and Seattle).
Acquiring small startups is another way in which the company secures key talent. It encourages budding tech entrepreneurs to pitch to Google before they seek funding from venture capitalists, a practice that is only ostensibly about acquiring new technologies—Google wants the people who are building the products.
Developing talent is another well-established capability for Google. According to Shannon Maher, Google's UK engineering site director, "We have customized the whole business for innovation. For example, engineers are allowed to spend 20 percent of their time on whatever they want to do, and this allows us to cross-pollinate a lot of new ideas." In addition to building learning and development opportunities into work roles, Google requires its people to contribute to their colleagues' development by hosting "TechTalks," in which employees teach other employees. (Outsiders are also invited to TechTalks, both as presenters and participants, and the sessions are videotaped and posted on the Internet.)
Google has also developed a capability in deploying talent in ways that align individuals' talents and aspirations with the organization's strategic objectives. The fun work environment and all of the perks "Googlers" enjoy are nice, but it is the promise of opportunities to work on "the toughest problems in computer science" and help develop "innovative products that make a positive difference in tens of millions of lives every day" that truly engage Google's employees. According to BusinessWeek, Google's "position on the crest of innovation" enables it to engage more engineers and tech talent than any other computer or Internet company.
As the company builds new capabilities and creates new market opportunities, its strategies evolve, talent needs are redefined, new talent sources are discovered and that new talent is developed and deployed. Google has set in motion the virtuous cycle of talent multiplication to become a talent-powered organization.
In 2005, Google's sales per employee were $1.5 million—more than twice that of its competitors. In talent-powered organizations, systems for combining employees' skills and knowledge help everyone contribute more while also increasing the organization's collective capabilities. Thus the talent-powered organization achieves high performance while it strengthens its competitive position and positions itself for future growth.
News Center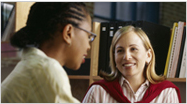 As the global economy is developing at different paces,geographic diversity will play a major role in the way companies discover new sources of talent.