Corporate Citizen
CSR(Corporate Social Responsibility) Policy
The organization who has undertaken the CSR(Corporate Social Responsibility) policy, needs to perform with accordance to the laws, regulations & compliances, and also needs to execute its social responsibilities to generate more contribution to the community and people who are in need.
Mission Asia & Partners("MAP") puts a percentage of its business profits by donating to
The Library Project
, to help the people, especially in China's less developed areas, to have access to more books, knowledge and encouragement, which are also key to their future successes, no matter what life stage they are at.
The Library Project is organized by non-profitable organization, and also already won wide social recognition. MAP is active in joining and acting with wishes more people especially children would get more power and wisdom, from books and knowledge. The positive knowledge and lessons they have learned could in future sustain their study, work and life in a more essential but proactive way.
In today's 21st Century, people's life and social development is largely shaped by knowledge and technology. Under firm belief on knowledge, MAP sets its CSR policy with focus of social contribution on books.
***

Knowledge changes the destiny

:
Good knowledge is powerful enough to help change, escalate the destiny and life into a new level. The early stage good knowledge input is essentially important for the individuals' future and long-term development.
***

Spirits/Attitudes differentiate the life

:
By taking the positive attitudes and never give up spirits, the level of our life and career could be totally different from those who're just physically rich. We are promoting the positive philosophy by selecting excellent books and giving valuable suggestions.
***

Continuous learning illuminates the future

:
The continuous learning, from the beginning of the study, to the end of our life, is prospecting and illuminating our future.
Welcome more people to join the Library Project, be a continuous learner, and encourage more people to learn continuously, especially the people in poverty and in need. The lives could be illuminated to a new height!
News Center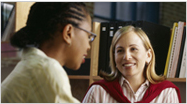 As the global economy is developing at different paces,geographic diversity will play a major role in the way companies discover new sources of talent.